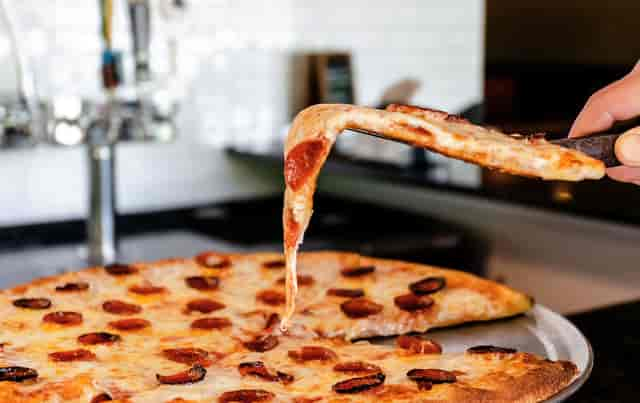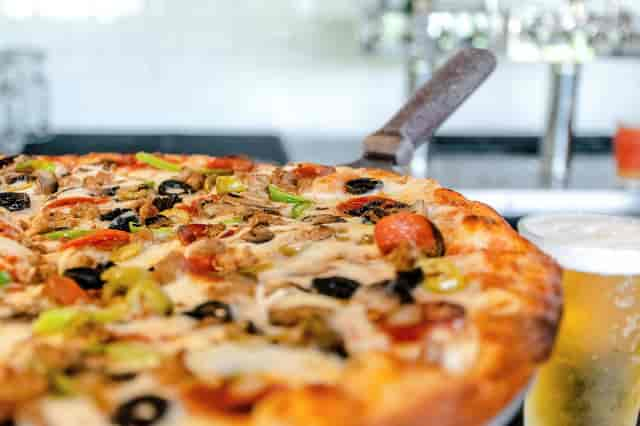 Dinner Menu
Become a VIP
Receive updates on special events, new menu items, menu reviews, and more!
Dinner Menu
Toppings
VEGGIE TOPPINGS
Onion, Green Pepper, Mushroom, Black Olive, Green Olive, Tomato, Spinach, Banana Pepper, Jalapeno, Hot Pepper, Broccoli, Eggplant, Artichoke
MEAT TOPPINGS
Pepperoni, Sausage, Ground Beef, Ham, Bacon, Anchovy
MORE TOPPINGS
Pineapple, Fresh Basil, Fresh Garlic, Ricotta, Asiago, Fontinella, Provolone
PREMIUM TOPPINGS
Steak, Meatballs, Grilled Chicken, Roasted Red Peppers, Feta Cheese, Olive Oil base
Specialty Pizzas
No substitutions or splits on Specialty pizzas please!
Wings & Fingers
Wings OR Fingers come with celery and a side of dipping sauce. Half and single
orders can be sauced in one flavor only; larger orders can be sauced in sets of 10 for
$1 per flavor. Upgrade your wings to all drums or all flats for $1 per set of 10.

PICK A WING/FINGER FLAVOR
Plain, Mild, Medium, Hot, Suicide, Cajun, Lemon Pepper, Garlic, BBQ, Honey BBQ, Hot BBQ, Teriyaki, Hot Teriyaki, Ranch

PICK A DIPPING SAUCE
Ranch, Blue Cheese, Honey Mustard, BBQ
Sandwiches
All sandwiches with exception of Beef on Weck are
8-inch and are served with Italian chips and a pickle.
Substitute a side of fries or onion rings for $1.50 OR
tater tots, Caesar or House salad for $2.50
Philly Cheesesteaks
Customize your Philly! Add vegetable toppings for .75
each or meat toppings for $2 each.
Wraps
Served with Italian chips and a pickle
Salads
Add grilled or fried chicken to any regular salad for $2 or large salad for $4
Italian Entrées
Served with a regular House salad and toasted bread. Substitute a regular Greek or
Caesar salad for + $1
Beverages
ICED TEA & FOUNTAIN DRINKS | $1.99
Fresh brewed iced tea, sweet or unsweet, Coke products
BOTTLED SODA | $1.99 $3.99
Coke products, 20 oz & 2 liter
WINE & BEER
A selection of fine red and white wines by the glass; bottled and draft beers.